Founded in 1984, Chelsea Green Publishing is recognized as a leading publisher of books on the politics and practice of sustainable living, publishing authors who bring in-depth, practical knowledge to life, and give readers hands-on information related to organic farming and gardening, ecology and the environment, healthy food, sustainable economics, progressive politics, and, most recently, integrative health and wellness.
Chelsea Green titles have received numerous awards, including a New York Times Notable Book of the Year, a Los Angeles Times Book Prize finalist, 800 CEO Read Business Book of the Year Award, ALA and Booklist Notable Books of the Year, the John Burroughs Medal, James Beard Award finalist, A Readable Feast Cookbook Award, IACP Cookbook Award, New York Book Show Design Award, Garden Globe Award, and Foreword Reviews Books of the Year, as well as numerous Nautilus Book Awards and awards from the American Horticultural Society.
Foreword Reviews named Chelsea Green its Independent Publisher of the Year (2012) for our "significant contributions in the categories of politics and sustainable living."
In 2012, Chelsea Green decided to practice what it publishes and became an employee-owned company, creating an ESOP in which employees control 78 percent of the company's privately held stock. In 2019, Chelsea Green completed the transfer and became 100% employee owned! The long-term goal of converting the ownership to an ESOP is aimed at keeping Chelsea Green an independent publisher, keeping its roots firmly planted in Vermont, and ensuring that the publishing vision started in 1984 lives far into the future.
Chelsea Green is also an industry leader when it comes to book publishing as a craft. Our team of editors works closely with each author to develop their manuscript before it even heads into the production and design process. We also have in-house design, sales, and marketing teams—including events, media, and publicity outreach, as well as social media and online marketing—that allow us to provide a full suite of support services for our authors. We are a founding member of the Green Press Initiative and have been printing books on recycled paper since 1985, when our books first appeared in bookstores.
In 2006, we updated our company's vision, purpose, and approach to continue to inspire staff, authors, shareholders and business partners:
Chelsea Green sees publishing as a tool for effecting cultural change. Our purpose is to reverse the destruction of the natural world by challenging the beliefs and practices that are enabling this destruction and by providing inspirational and practical alternatives that promote sustainable living.
We seek to promote better understanding of natural systems as a global commons. We seek to empower citizens to participate in reclaiming the commons, to serve as its effective stewards, and to help mitigate worldwide social and environmental disruptions.
We seek to build a community of new voices that will empower and inspire individuals to reduce their ecological impact and to participate in the restoration of healthy local communities, bioregional ecosystems, and a diversity of cultures.
We accomplish this by publishing for the practice and politics of sustainability. We provide information about organic growing and renewable energy, while also providing information about democratic citizenship, political action, and cultural resistance and rebirth.
We are determined to remain an independent publisher, and to function as a sustainable business. This comprises responsible stewardship of our four types of capital, as follows:
Intellectual capital – cultivate collaborative, respectful relationships with authors and readers to share and grow a body of practical and political knowledge.
Social capital – increase our employees' satisfaction, contribution, and reward through shared ownership; build existing and new readers' commitment to our mission through web-based and other social networking.
Natural capital – reduce the ecological footprint of our publishing by using recycled paper and reducing transportation-related energy consumption.
Financial capital – structure the business to provide a return on shareholders' capital and maintain independence through a capital investment strategy that can be financed internally.
Our Commitment to Green Publishing
We lead the industry both in terms of content—foundational books on organic agriculture, eco-cuisine, renewable energy, green building, and ethical business—and in terms of environmental practice, printing 95 percent of our books on recycled paper with a minimum 30 percent post-consumer waste and aiming for 100 percent whenever possible. We also print our books in North America, as opposed to overseas like many publishers, with most of our printing partners based in the United States.
As well as being a publisher of books for sustainable living, Chelsea Green is committed to being a sustainable business enterprise. This means reducing natural resource and energy use to the maximum extent possible. We print our books and catalogs on chlorine-free recycled paper, using soy-based inks, whenever possible, and we exclusively work with printers based in North America (and almost exclusively within the United States), rather than overseas. This keeps our carbon footprint and reliance on fossil fuels to a minimum.
We are members of the Green Press Initiative, a non-profit organization dedicated to increasing the use of recycled paper in the book industry. Publishers who join the Green Press Initiative make a pledge that at least ten percent of their book titles will meet or exceed the Initiative's recycled content and bleaching process.
As part of our commitment to this process, we also include an environmental impact statement in each book we publish, identifying to readers how much trees, wastewater, solid waste, and greenhouse gases were conserved or mitigated by living up to these greener standards.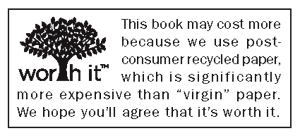 Chelsea Green is one of the first publishers to sign on to the Green Press Initiative. Here is the WorthIt logo we put on all our new books.
This approach is a perfect example of what is called a "triple bottom line" practice, one that benefits people, planet, and profit, and the emerging new model for sustainable businesses in the 21st century.